About Flourish
Flour∙ish:

To grow luxuriantly. To thrive.
To create the highest level of excellence and influence.
To make bold, sweeping movements.
Flourish Leadership, LLC is an organization dedicated to transforming the lives of high-achieving women in corporate leadership roles. At Flourish, we envision a world that is forever changed for good by women who are thriving.
Flourish Offerings
Flourish provides expert executive coaching, mastermind and business mentoring and life-transforming strategic programs. Our clients are:
Senior-level to C-Suite women executives
Women entrepreneurs seeking to grow the impact and reach of their business. Most are seeking to grow to seven-figures and create a substantial exit or sunset.
Women who have reached a high level of professional success and are looking to transition to the next elevated level in their organizations and in their lives.
Our Differentiator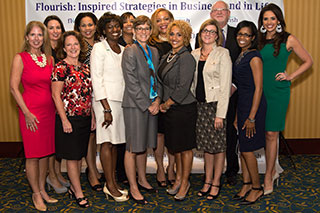 Flourish Leadership, LLC and the Flourish Conference for Women in Leadership provides programs that are both engaging and impactful; inspiring and immersive; rousing and rigorous. We measure success by the long-term impact our programs have on the professional and personal lives of our clients.
Flourish Core Values
Mastery.
We value the experiences and expertise of the incredible women who have achieved so much in their industries, organizations and families. The very foundation of our work is to honor and elevate those women and organizations who have worked so hard to positively impact and change the world.

Guided by the expansive literature on helping individuals and organizations to thrive, including our own research and expertise, we seek to positively impact every individual who participates in our events or engages our services.

Integrity.
We believe that transparency and honesty in all we do will produce the desired results. Anything less is unacceptable.

Passion.
Our purpose is to help change the world in a meaningful and positive way. We believe by ensuring women flourish, we can impact organizations and communities to create that lasting change.

Our passion is only matched by our willingness to create a safe space to engage, inspire and impact high-achieving women to help them achieve their professional and personal goals.

Strategy.
We honor the rigor of the scientific method – and the strategic approach. We ground our programs in facts and proven insights….

Innovation.
Although we use data to ground our ideas, we are not afraid to dream, to create and to innovate. In fact, we believe being sensitive to changes in the marketplace that impact how people connect, engage and work are critical for true success.
Founder and Co-chairs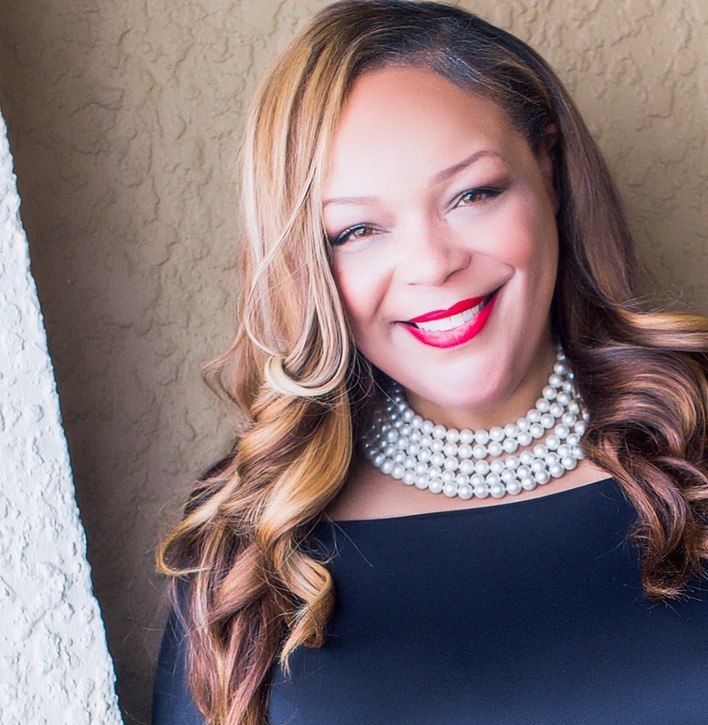 Dr. Rachel Talton is CEO of the award-winning firm Synergy Marketing Strategy & Research, Inc. Synergy's purpose is to help organizations inspire, connect, and engage with customers to flourish and grow. Synergy uses a unique combination of expertise in research, insight, and strategy to better understand consumer and employee behaviors and leverage opportunities for growth. In addition to Dr. Talton's success as an entrepreneur, she is an award-winning published scholar and keynote speaker in the areas of brand trust, consumer loyalty, and employee engagement.
Dr. Talton is also CTO (Chief Transformation Officer) of Flourish Leadership, LLC and the Flourish Conference for Women in Leadership, which provides high-achieving female executives and entrepreneurs with executive coaching, masterminding cohorts, and the company's signature offering: Transformation Immersion™. Transformation Immersion Retreats are scalable strategic leadership events. These sessions provide in-depth analysis and mentoring to help executive women flourish in both their professional careers, and personal lives.
In early 2009, Dr. Talton co-founded TRUST, LLC alongside several established Northeast-Ohio CEOs working in the marketing discipline. To support its mission, Dr. Talton designed "Women in Business Pay It Forward." Today, Synergy still donates marketing services to one burgeoning company each year. The most recent recipient of in-kind services is S. Rose Inc., a fast-growing company offering consumer hard-goods. Synergy's BloomPrint™ for Brands allowed S. Rose Inc. to take the next step in their growth plan.
Building on Synergy's successes, in 2010 Dr. Talton and her team focused their energies on improving the economic and social development of historically-disadvantaged groups throughout the Cleveland Plus region with the design and implementation of the Northeast Ohio Economic Inclusion Forum Series. The four-event series, and its associated action plan, has sparked active participation from hundreds of policy-makers and executives across the public, private, and not-for-profit sectors.
Dr. Talton serves on the Board of Directors and Executive Committee of Destination Cleveland, where she chairs the Marketing Committee. In addition, she serves on the Board of Directors of the Cuyahoga Community College Foundation, as well as JumpStart Inc. Dr. Talton is a member of the Cleveland Bridge Builders Class of 2002, as well as the Leadership Cleveland Class of 2005. Her local social activities are complemented by her work with the Entrepreneurs Organization (EO). EO is an organization focused on developing Global entrepreneurial talent through the leadership of its members, all of whom are founders of organizations with annual revenues of $1M+.
Recognized by several organizations, Dr. Talton was recognized as the 2014 Young Professional of the Year (STAR Award) by the Women of Color Foundation. Her firm, Synergy, was also selected as winner of the presigious 2014 Medical Mutual Pillar Award for Community Service presented by Smart Business Magazine. Dr. Talton was selected as a finalist for the 2010 Northeast Ohio ATHENA® International Award, a global award recognizing exceptional leaders who seek to inspire others to pursue excellence in their professional and personal lives. She has also received the 2010 NAWBO "Top 10 Women Business Owners of Northeast Ohio" Award, Crain's Cleveland Business "Top Forty Under 40" Award, Kaleidoscope Magazine's "Top 40-Under-Forty Leaders in Northeastern Ohio" Award, a Who's Who in Black Cleveland commendation, and the 2007 "Most Influential Business Leaders in Northeast Ohio" award, presented by the Cleveland Call & Post. Additionally, she has received the Blue Key Oratory Award, The Mayor of Cleveland Entrepreneur of the Year Award (2003), and is the recipient of the Minority Business of the Year Award by NOMBC (2004). In addition to her awards in economic and social development, Dr. Talton is also a proud member of the Links, Inc., Delta Sigma Theta, and the PhD Project.
Dr. Talton also belongs to several professional organizations including the Market Research Association, the American Marketing Association, and the Academy of Management. She has been featured as an expert in brand strategy and market research on ABC News, Fox News, The Cleveland Plain Dealer, Crain's and MBA Magazine, amongst many others. She has authored several practitioner and academic articles, including "Dare to Build Trust in Times of Distrust" and "Trust Payoffs in Distrust Dominated Environments." Her first book, Beyond Extraordinary: A Blueprint to Flourish in Business and in Life will be published in early 2015. Her second book, The Currency of Passion, will be published in early 2016.
Dr. Talton earned her Doctorate in Management from Case Western Reserve University's Weatherhead School of Management, where she also serves as Adjunct Professor of Marketing. Her research is focused on the impact of perceptions of trust, satisfaction, and value on consumer loyalty in dynamic-industry environments. She holds an MBA with a concentration in Finance from Cleveland State University, as well as a BA in Psychology. She is a lifetime member of the Beta Gamma Sigma International Business Honor Society.
Rachel's personal passions include international travel, community service, public speaking, writing, art, and music.
Co-Chairs
Flourish Co-Chairs are top women leaders in their fields across six states: DC, Maryland, Virginia, Ohio, Illinois and Indiana. Each of the co-chairs is committed to the success of the Flourish Conference for Women in Leadership and most importantly to each of the women who attend and the organizations they represent. Each co-chair brings to Flourish expertise from public, private and nonprofit sector executive roles. They are C-Suite executives of multi-billion dollar corporations, federal lobbyists, appointed public officials, attorneys, technology innovators, educators, and entrepreneurs.
Indianapolis
Althea Cooper
Amber Boyd
Angela Cooper Collins
Deseri Garcia
Erika Parsons
Mi'Chelle Bettner
Michele Howell
Scenario Adebesin
Tayonna Harris Askew
Cleveland
Barb Singer
Christine Lobas
Denise Rucker-Burton
Felicia Johnson
Jan Conrad
Kathy Lentner
Kristi Stepp
Linda Hsu
Lisa Foley
Michelle Anderson
Nichole B. Marshall
Ramona Hood
Tonika Hammonds
Chicago
Frenchye Bush Harris
Jennifer Mason
Linda Hsu
Nicole Barnes Marshall
Olga Camargo
Rasgada Whitehead
Tasja Ransom
Washington D.C.
Carmen Ortiz-McGhee
Dr. Terré Holmes
Gail Johnson
Kimberly Robinson
Martha Lloyd
Michele Jackson
Nyree Wright
Rita Goodroe
Tasha "T.C." Cooper
Vikki Johnson
Giving Back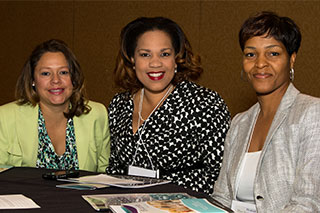 Dress for Success
Flourish is proud to support Dress For Success. Dress for Success is part of a global movement for change, empowering women to obtain safer and better futures. Bring your new or slightly used dresses or suits for Dress for Success to any Flourish Conference! Visit the website for more information: https://www.dressforsuccess.org/.
National Association of Women Business Owners
Flourish is excited to work with NAWBO for 2015. NAWBO aims to propel women entrepreneurs into economic, social and political spheres of power worldwide. For more information, please visit the NAWBO website: http://nawbo.org/.
Flourish Foundation
Flourish Leadership is working on their most recent project – the Flourish Foundation! The Foundation will serve to provide opportunities to emerging mid-level managers and women business owners who are seeking to exceed the $1 million mark. Currently, the organization has an application pending to register the foundation as a 501c3.
Mission – Provide opportunities for leadership development, executive development and business strategy coaching for emerging executives. These are the flourishing women of the future! The Foundation will provide support, encouragement and inspiration to help these women thrive in their business careers and their lives.