Sponsorship Opportunities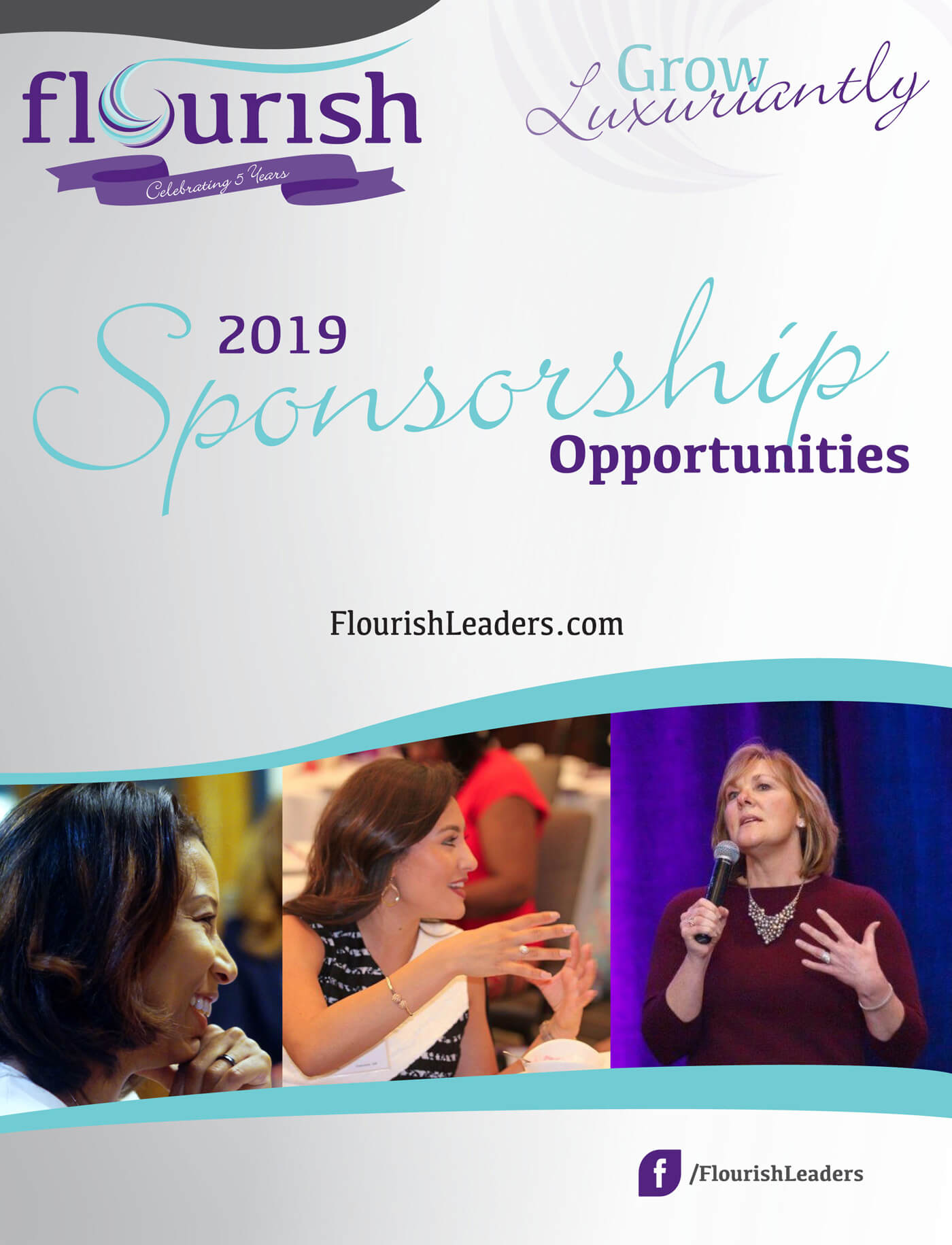 Sponsorship Opportunities
Over 90% of our sponsors have been with us since we were founded. New corporate sponsors are jumping on board every year. We invite you to partner with us as a sponsor at the highest level that is comfortable for you in order to positively impact the senior-level women in your organization.
Due to an overwhelming ROI response from last year's events, all but one sponsor is reinvesting and participating in the conference for a second year.
Last year, Flourish sold out conferences in Cleveland , Indianapolis and Washington DC, drawing women between the ages of 35-55 with an income of $150,000 or more, who have senior-level leadership positions in a corporation (Senior Managers, VPs, Partners, Managing Directors and Directors) and entrepreneurs with at least five years running a successful business.
68% of attendees were leaders in the Corporate and Public Sector (Bankers, CEO's, Physicians)
26% were entrepreneurs
6% were nonprofit leaders
100% of the women who attended stated that the speakers shared concrete strategies that they can use in their own career, business and life.
Please click here to download our Sponsorship Package
This is a unique speaking opportunity where you will reach between 100-135 corporate and entrepreneurial female leaders in a 2 to 3-state region. Each of these participants is seeking collaborative connections, tools and resources to thrive - in their careers and in their personal, civic and family lives. Instead of participating in a panel-style discussion, we encourage you to share your personal story about your journey and how you've flourished in your personal and professional life.
As a speaker, you will receive tremendous national and regional media attention because of your association with Flourish, in addition to invaluable connections and networking opportunities with the high-level women participants
Please review our detailed speaker opportunity packet here: [please add hyperlink to download the file provided]. Please contact us to express your interest in speaking at one of our events, or for any questions at [email protected] or 216-431-0008.
What Our Previous Sponsors are Saying:
If you're interested in becoming a sponsor, please contact Crystal Ogden to receive the full sponsorship packet.
"University Hospitals provides the highest quality healthcare as the premier integrated hospital system in the region. The Flourish Conference for Women in Leadership provides the highest quality leadership development and executive coaching offerings to women at the top of their industries, including healthcare. The synergy is very obvious. At UH, are proud to be one of Flourish's major sponsors and we applaud Flourish for creating an environment that encourages the strategic engagement, executive coaching and collaborative opportunities which allow women leaders to grow and prosper. The work that we do together creates meaningful opportunities for the women of University Hospitals, and women in leadership across the major industries in our region."

– Steven Standley, Chief Administrative Officer, University Hospitals
"The Flourish Conference for Women in Leadership was an extraordinary experience for the EY brand to connect to some of the top women in the marketplace – to exchange ideas, insights and strategies for success. For me, it not only provided knowledge from the best minds, but it also allowed the women in the room to engage in a non-threatening environment. I left the conference and the retreat energized about my future prospects – both professionally and personally."

- Tonika Hammond, Ernst & Young
"Flourish has given me the freedom to make the choices necessary, both professionally and personally, to achieve my goals and be my best self. Through thorough self- evaluation and reflection, I have clear priorities and a solid plan for reaching my highest level of accomplishment. I have no doubt that I will reach what I aspire, both for my organization and for my family...and what I will achieve will be great indeed!"

- Rebecca Murphy, Vice President - Marketing, Kent State University